If you were to source the 3D printer that has the best combination of material selection, office compatibility, and part accuracy, performance and finish, you'd probably pick anObjet Geometries printer.  The Israeli company is an innovation leader - owning over 50 patents and patents pending - and is the only company that offers a 3D printer that will perform multiple-material part building.
This month RapidToday interviewed Gilad Gans, Objet's executive vice president of marketing, sales and business development.  Following is an edited transcript.
RapidToday: How much has Objet been growing in recent years?Gans:  Objet Geometries Ltd is a privately held company and as such we aren't at liberty to disclose our financials. We are proud to report that despite the difficult economic situation worldwide, we continue to be very strong financially. Our customers are spending their money differently in 2009 but overall we have seen an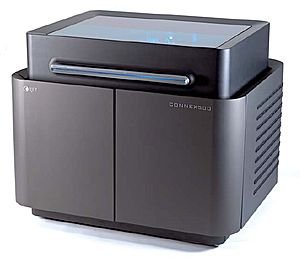 The Objet Connex500 uses a patented PolyJet Matrix technology to print multiple materials simultaneously
increase in the total number of units sold this year, as we have every year.
RapidToday: Did Objet suffer much from the recent recession?Gans:  2009 was a very challenging year for the 3D printing and rapid prototyping industry, and for Objet as well. Maintaining sales volumes and convincing our customers to focus on technologies and capabilities that would help them to position themselves better when the crises ends were major tasks.
In comparison to many others, Objet has suffered less as it has maintained a strong revenue stream from consumables, primarily from resins. While some segments have been using less resin, others have increased their resin consumption - ironically as a result of recessionary pressures - as they are using our solutions to save money. Doing more in-house prototyping decreases their 'cost-of-error' and enables faster time to market - the two things that really matter during a recession.
RapidToday: How big is the company today?

Gans: Objet Geometries employs three hundred people across our seven locations worldwide.
RapidToday: What is the top ambition of Objet?  Be the 3D printer unit volume leader?  Transform product development and manufacturing?  Introduce more 3D printer innovations than any of your competitors?
Gans:  Objet's aim is to be recognized and respected as the premier provider of 3D printing solutions. We believe that the way to achieve this is to continue to leverage the high standard of quality that Objet is known for due to our PolyJet and PolyJet Matrix Technologies and to continue to develop new materials for use on all our platforms, across the board.
RapidToday: Who do you see as your biggest competitor?  Z Corp?  3D Systems?  Roland CNC?  Someone else?
Gans: Every one of our competitors has a solution for niche segments of the broad market that we cover. However, we don't believe any of their offerings are as inclusive as our range of 3D printing solutions. We see the biggest challenge, not just for Objet but for all the players in our space, is to increase market awareness. As more and more businesses see the advantages that 3D printing can bring, all of us will be able to grow. There is ample room for all of us.
RapidToday: What 3D printer capability does your average customer most value?  Multiple material printing?  Model quality? Material selection?  Something else?
Gans:  PolyJet and PolyJet Matrix technologies offers value in different ways for many different segments. For example, while one industry may place a premium on model quality, another may be more focused on overmolding capabilities, and for another high accuracy might be the most important capability. The most important point here is that Objet provides value to all of these segments, from automotive, toys, equipment, sporting goods, education, and medical, to industrial, defense and jewelry and many more.
RapidToday: Does Objet have much luck selling 3D printers in low-labor-cost countries like China and India? 
Gans: The value of Objet 3D printing solutions is in their high quality and advanced capabilities that other technologies can not provide, rather than in a low price offering. While we do have a number of high end solutions, it is important to note that we also have affordable smaller size printers, such as the Alaris30 Desktop 3D Printer and the Eden250 3D printer. 
It is noteworthy that in countries traditionally considered to very cost-sensitive, like China and India, our solutions are valued precisely because of their quality and capabilities and our unit sales are high. In fact, China is our third largest customer in terms of units sold.
RapidToday: If a company employs a full-time model maker, how quickly would you anticipate they would get payback by replacing him and buying an Objet machine?
Gans: We are proud that in almost every instance the return-on-investment for using an Objet 3D printing system is quick. We hear back from customers who report that after approximately three months the cost of the machine has been fully recouped by savings and/or increased business.
RapidToday: Do some customers use Objet 3D printers for low volume manufacturing? 
Gans: Yes, companies who do low volume manufacturing also benefit from Objet 3D printers. The range of applications is very wide, including silicone molding and rapid tooling. In fact, one of our strongest competitive advantages is the post-processing capabilities our models offer, which enable sanding, painting, metal coating and more. The wide variety of materials within the FullCure® family enables low-volume manufacturing of parts that would use different types of rigid and flexible elastomers, with varied hardness values.
RapidToday: Does Objet use a similar business model as 2D printer manufacturers - sell the machine at cost or near cost, and earn the profit on the sale of resin? 
Gans: This model is not being used in the 3D printing industry and most, if not all, companies depend on their machine sales for profit generation.
RapidToday: Does being headquartered in Israel give Objet an advantage over other 3D printer manufacturers?
Gans: Being headquartered in Israel enables us to take advantage of the special skill sets in a wide array of engineering and science fields that are available here. Israel has a huge pool of professionals with experience in inkjet technology, algorithms, chemistry, mechanics and software who work at a very high level. So yes, I believe our location gives us an advantage.
RapidToday: Do you plan to open a South America or Australia office?
Gans: We are continuing opening local offices where we see the need and the benefit. Recently we opened offices in Mexico, Japan and increased our presence in China.
RapidToday: What do customers want Objet to work on next?  Lower cost of printers or material?  More capability?  Better usability?  More materials?  Something else?
Gans: All these things are wanted by different segments. We believe that our customers would like to see us work on all of the above and we are even recruiting people with experience in varied markets to better understand and tailor solutions for specific segments.
RapidToday: What percent of sales goes back into R&D?  What R&D is Objet currently working on?
Gans: We plan to continue investing heavily in infrastructure and R&D to help drive our ongoing growth. Over the next year or so we will be developing new products in our Eden and Connex families of 3D printers, as well as new model materials -- all designed to meet our customer's changing needs and take advantage of emerging opportunities.
RapidToday: Where does the name Objet come from?
Gans: combination of "object" and "jet". The "jet" part of the name refers to the jetting of the Objet materials, similar to the way inks are jetted in an inkjet document printer.
Source; rapidtoday.com